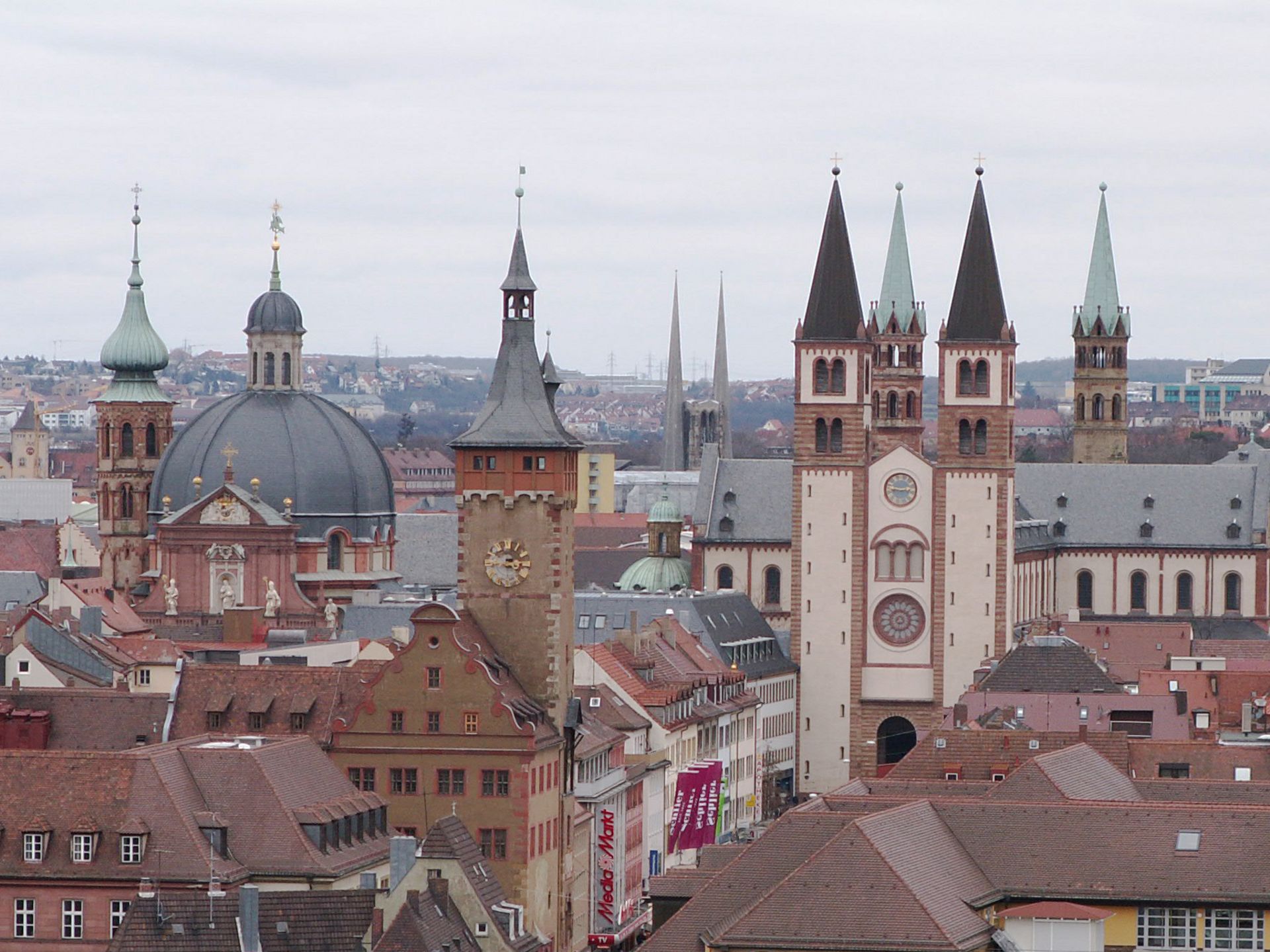 Würzburg, the pearl at the river Main
What life in Würzburg is about: Würzburg is a picturesque city in the region of lower Franconia (Franken) in Bavaria and is situated on the River Main. Nearly completely destroyed during the last days of World War II, rebuilding activities transformed Würzburg into a vibrant, modern city that has retained its historical charm. With the Residence Palace, the Fortress Marienberg, and the cathedral of St. Kilian, Würzburg offers stunning architectural landmarks among many other sights.
---
Where culture meets culinary
The city and region is inextricably linked to Franconian wine culture and is home to a number of famous vineyards and wineries in Germany. Many "Weinstuben" in the historic center provide a rustic atmosphere where local specialties can be enjoyed. One of the most popular after-work activities is to savour a glass of white wine on the Old Main Bridge "Alte Mainbrücke" among colleagues and friends.

Join us in beautiful Würzburg and enjoy the Mainfranken area with its special mix of culture, world heritage and wine festivals.
Julius-Maximilians-Universität of Würzburg
Founded in 1402, the Julius-Maximilians-Universität Würzburg (JMU) is an internationally acclaimed university with a 600 year history. Numerous acclaimed scholars and scientists have worked at the JMU, including Rudolf Virchow and Nobel laureate Wilhelm Conrad Röntgen. The JMU is one of the leading institutions of higher education in Germany and internationally ranks highly in many scientific disciplines including biology, medicine, physics, and psychology. Today, the JMU is home to more than 29,000 students, including over 2,700 from abroad.
A core activity of the JMU is to foster interdisciplinary research. This successful structural approach has led to the establishment of many highly visible institutions, e.g. the Biocenter, the Institute of Molecular Infection Biology, the Research Center for Infectious Diseases, the Rudolf Virchow Center for Experimental Biomedicine, the HIRI and a Max Planck Research Group "Systems Immunology".
"Kein anderer Wein will mir schmecken, und ich bin verdrießlich, wenn mir mein gewohnter Lieblingstrank abgeht."

Johann Wolfgang von Goethe, on the subject of wine from the Würzburger Stein